Monthly Archives:
September 2012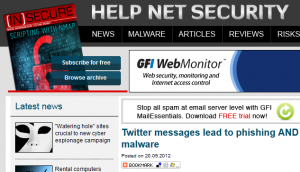 Twitter messages lead to phishing AND malware
A very interesting article by Chris Boyd highlighting the dangers of responding to private messages within your Twitter account. As with similar scams via e-mail etc you are persuaded to follow a false… Continue reading →
A small article by Eilene Zimmerman. Apart from recommending the use of videos to promote your business, the main take-away is the simple concept of using your mobile phone to produce the video.
Phones now come with the lenses and… Continue reading →
Matt Cutts  reminds us of this very useful tool within the Google Webmaster tools. It's the sort of tool that is very easily ignored for the very simple reason that you never need to use it or you perceive… Continue reading →
An excellent tool for taking screenshots of webpages and then either cropping them or editing them for usage elsewhere.
Particularly useful for screenshots of websites that you may be referring to within your business blog.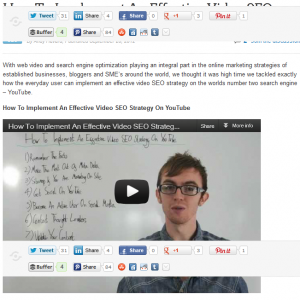 http://www.business2community.com/seo/how-to-implement-an-effective-video-seo-strategy-on-youtube-0285208
YouTube is the world's second most popular search engine. Andy Havard takes us through the basic process of using that search engine to help promote your business.
He reminds us that although YouTube is only the second most… Continue reading →