Monthly Archives:
October 2012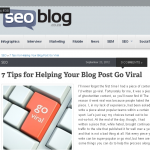 http://www.seoblog.co.za/seo/7-tips-for-helping-your-blog-post-go-viral/
A question all of us with blogs should be asking. A very useful read to get your head in gear for such an approach. Suggestions are:
Choose an Interesting Topic
Fuel Controversy
Carefully Write Your Headline
Make the Post… Continue reading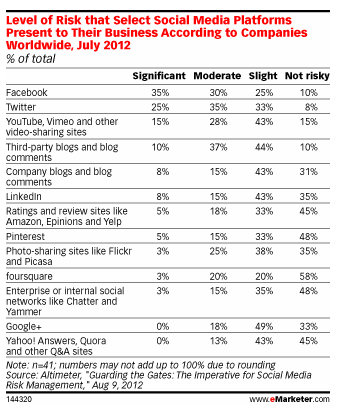 http://www.marketingpilgrim.com/2012/08/companies-say-posting-to-facebook-is-risky-business.html
This is an interesting take on social media.
I suppose it is quite obvious in retrospect, but if a company decides to utilise mass audience communication vehicles in order to get over its message then it must run the… Continue reading →

7 Sins of SEO Copywriting | Wordtracker.
In case you are not aware, Wordtracker have built up a reputation in the SEO world as the provider of services devoted to the uncovering/analysis of keywords. Needless to say, they have… Continue reading →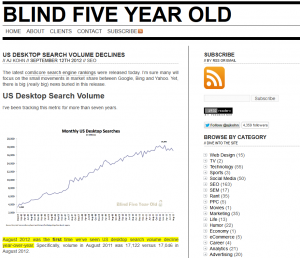 http://www.blindfiveyearold.com/us-desktop-search-volume-declines
Fascinating results pulled together by Aj Kohn after analysing the most recent comScore data on search engine rankings.
There has been a steady increase in monthly (United States) desktop searches since records began. To see the first ever decline… Continue reading →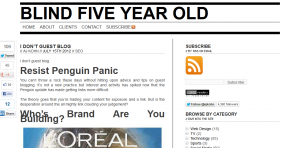 http://www.blindfiveyearold.com/i-dont-guest-blog
Guest blogging has always been used to some extent, but since the advent of the Google algorithm changes in Panda and Penguin the interest in this area has increased substantially. Website owners are looking at this as it relatively… Continue reading →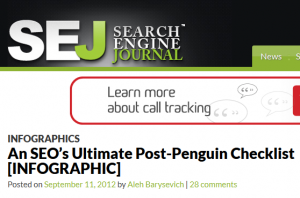 http://www.searchenginejournal.com/an-seos-ultimate-post-penguin-checklist-infographic/
Aleh Barysevich sets out how to assess your own website if it has been hit by the Google Penguin update.
Because some websites have been hit very heavily over recent months, then a number of owners have taken it… Continue reading →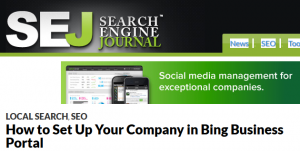 http://www.searchenginejournal.com/how-to-set-up-your-company-in-bing-business-portal/
Jayson DeMers explains how to set up your business in the Bing Business Portal.
We are all well aware of the importance of local SEO and the fact that your business and its website should be listed within (what… Continue reading →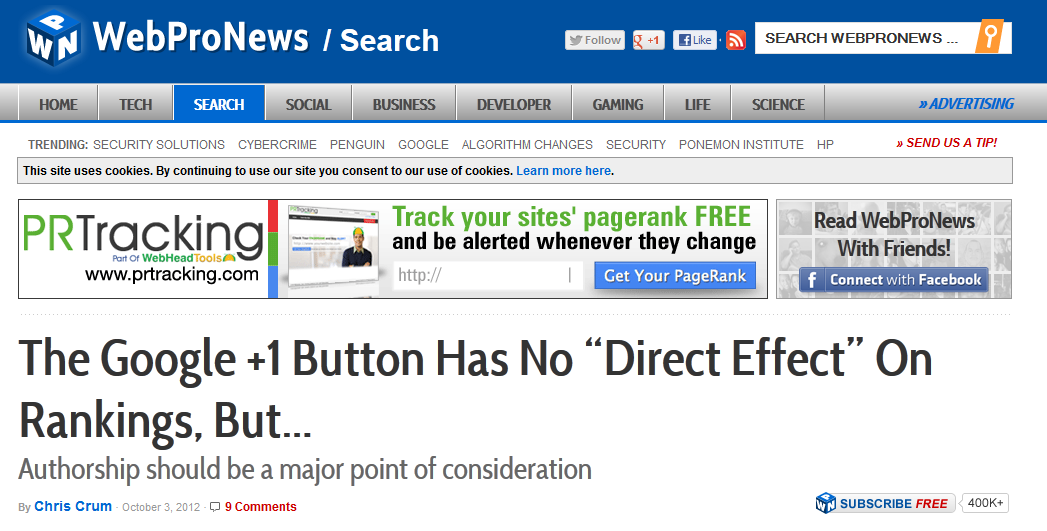 The Google +1 Button Has No "Direct Effect" On Rankings, But… | WebProNews.
Direct discussions with Google give a little more insight into the long-term workings of the algorithm.
There are two simple takeaways from this exchange.
1. Google… Continue reading →