Monthly Archives:
December 2012
Social media is a bit of a minefield – which ones should you use, which ones should you avoid? Depending on the type of business you are in, some will produce better results than others.… Continue reading →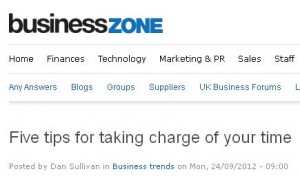 Five tips for taking charge of your time
Dan Sullivan takes us through 5 key tips to help us all manage our time better. As small business people, we can all fall prey to the problem of not finding enough… Continue reading →
The biggest problem with running email marketing campaigns must be "will the email get through?" With the massive abuse of this form of marketing over the years and the counter-actions developed to deal with that abuse, developing successful email campaigns… Continue reading →
Excellent work by Miriam and Liam.
I agree with the concept of looking at the bigger 'philosophical' picture rather than getting bogged down in the minutiae of how things work this week (compared to last… Continue reading →
The latest social kid-on-the-block is Pinterest. Causing a lot of interest. BUT, is it worth your time finding out what its all about and spending even more time setting up an account and then 'pinning' a multitude of photos?
Should… Continue reading →
Those guys at businesszone.co.uk have done it again. Twitter is an excellent tool for marketing in the socialsphere, but once you start there are a number of questions that crop up as to how to be as efficient as possible… Continue reading →

5 Ways Microsoft adCenter beats Google AdWords
We need to be paying much more attention to Bing Ads. PPCHero are very much the gurus on all thing PPC – so pay attention to concise comparisons like this.
Sam Owen sets… Continue reading →
A lot of work went into this infographic by the team at Epiphany Solutions Ltd. So if you are the owner of a small business, scan down over this and decide how your business might be improved by the adoption… Continue reading →
So, when is the best time to send out your email campaign? You've spent a lot of time, effort and budget pulling together your database and refining your email/newsletter. So when do you send – in the morning, afternoon or… Continue reading →

Official Google Webmaster Central Blog: More guidance on building high-quality sites
This is an 'old' post on the Official Webmaster Central Blog from May 2011. I know, the world of search engines moves so fast that this must be of… Continue reading →