Video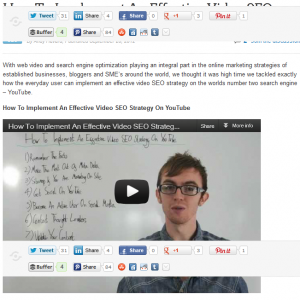 http://www.business2community.com/seo/how-to-implement-an-effective-video-seo-strategy-on-youtube-0285208
YouTube is the world's second most popular search engine. Andy Havard takes us through the basic process of using that search engine to help promote your business.
He reminds us that although YouTube is only the second most… Continue reading →
A short video pulling together the major tasks/actions needed by every good salesman. And that also applies to the owners of small businesses who invariably are also the company's major sales resource!!
The major points raised by this video are:… Continue reading →
Every small businessman is selling, whether it be in person, on the phone, or in an email. In fact, you are 'selling' even when you don't realise it!
So this short video sets out a simple strategy to overcome… Continue reading →