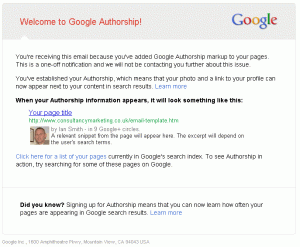 We have discussed on other posts the importance of setting up Google Authorship. We have also explained the basics of setting up Authorship for your website here. But I think it would be true to say that the much talked about 'AuthorRank' has not really produced clear improvements in rankings etc.
This is certainly due to the fact that Google is still very much developing this whole system and as such Authorship is still only in an infancy stage.
Well things do seem to have moved forward a tad. Google are now sending out 'Welcome to Google Authorship' emails for authors/webmasters who have successfully negotiated the sign-up and implementation phases.
This does not signify a major change – but rather confirmation of the stated strategy. So don't expect major changes in SERPs. But, the process is very much moving forward!