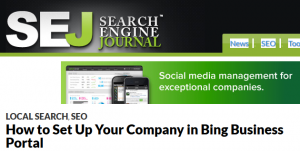 http://www.searchenginejournal.com/how-to-set-up-your-company-in-bing-business-portal/
Jayson DeMers explains how to set up your business in the Bing Business Portal.
We are all well aware of the importance of local SEO and the fact that your business and its website should be listed within (what was) Google Places. Data suggests that in the United States Bing now accounts for more than 15% of all searches and is quite probably growing. Are you aware that Bing Business Portal is the Bing equivalent to Google Places?
There is no doubt that SEO agencies have tended to ignore local searches within Bing due to their relative small volume. Jayson suggests that this needs to change and he explains in some detail how to acquire your local listing within Bing Business Portal.