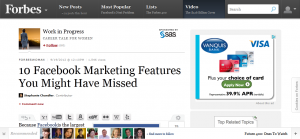 http://www.forbes.com/sites/work-in-progress/2012/09/19/10-facebook-marketing-features-you-might-have-missed/
Stephanie Chandler sets out 10 of the less known tricks you might want to employ with your Facebook account/page.
I particularly like point one – you can gain premium exposure to a post by pinning it to the top of the Facebook page.
Additionally, point two is similar in that she explains another method of drawing attention to a particular post is to ensure it spans two columns rather than the usual one.