Facebook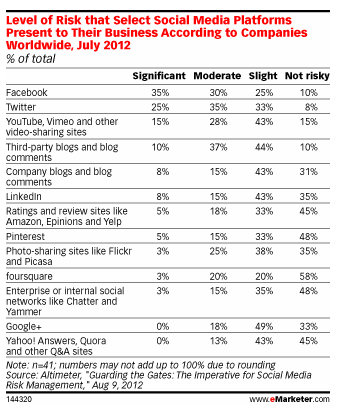 http://www.marketingpilgrim.com/2012/08/companies-say-posting-to-facebook-is-risky-business.html
This is an interesting take on social media.
I suppose it is quite obvious in retrospect, but if a company decides to utilise mass audience communication vehicles in order to get over its message then it must run the… Continue reading →
John Paul tested out Twitter Promoted Tweets, Facebook Promoted Posts and Reddit ads to see how well they worked.
He set up some very simple ad campaigns simply as a means to establishing their overall worth. It was not an… Continue reading →
[thumb link="false"]http://www.walmart.com[/thumb]
Walmart lauched a concerted Local Facebook campaign in 2011 – a serious commitment to this channel of consumer communication. It seems not to have worked. A total of 3500 Facebook Pages were involved!!
The recent post from Facebook stated "These newly improved automated efforts will remove those Likes gained by malware, compromised accounts, deceived users, or purchased bulk Likes".
In case you are not aware, an industry has… Continue reading →