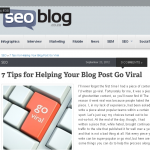 http://www.seoblog.co.za/seo/7-tips-for-helping-your-blog-post-go-viral/
A question all of us with blogs should be asking. A very useful read to get your head in gear for such an approach. Suggestions are:
Choose an Interesting Topic
Fuel Controversy
Carefully Write Your Headline
Make the Post Interactive
Write Passionately
Solve a Common Problem
Timing and Social Media
Jeffrey Geris points out that he generated interest on his blog post for over 12 months following such a strategy.