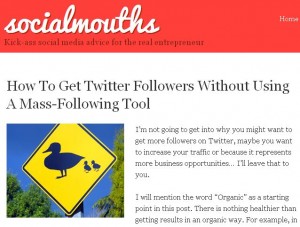 How To Get Twitter Followers Without Using A Mass-Following Tool
A very focused article by Francisco Rosales covering topics like – Know Your Niche, Write Content People Can Share, Be Resourceful, Stay In Your Field, Follow Less But Follow Smart, Introduce Yourself, Engage In Conversations, Manage Your Tweets, Email Signatures, Invite People To Follow You On Your Blog,  Offline Promotion and Don't Use Auto-Responders.
In particular I like "Follow Less But Follow Smart" which is an issue that must face most Tweeters. The desire to acquire new followers can mean you end up following others just to acquire more followers yourself. How many Twitter accounts have you seen where they have 33,000 followers but 32,000 following?
The author reminds us – it is a slow process but if we do it organically rather than just collecting numbers, then we are far more likely to succeed in the long run.