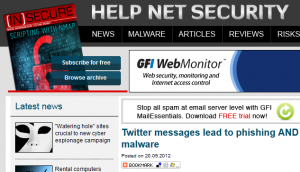 Twitter messages lead to phishing AND malware
A very interesting article by Chris Boyd highlighting the dangers of responding to private messages within your Twitter account. As with similar scams via e-mail etc you are persuaded to follow a false link (for example to Facebook) where you need to login using your personal access details.
Not only are you at risk of having your account hijacked, but by following further instructions you may well be installing malware on your own computer.
Remain vigilant and if in doubt, do not click!