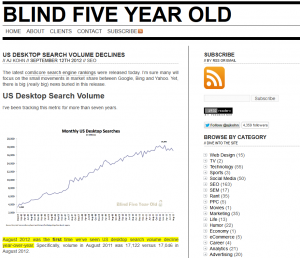 http://www.blindfiveyearold.com/us-desktop-search-volume-declines
Fascinating results pulled together by Aj Kohn after analysing the most recent comScore data on search engine rankings.
There has been a steady increase in monthly (United States) desktop searches since records began. To see the first ever decline in such results is therefore quite remarkable.
Aj concludes that this is almost certainly due to the movement of search on desktops to search on mobile phones and tablets. Unfortunately, there appears to be no reliable data to test whether this is true or not.