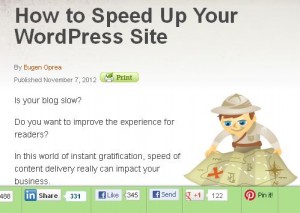 How to Speed Up Your WordPress Site
This is just the sort of stuff non-technical bloggers need to read!
Although for the vast majority of websites page speed will not (I repeat will not) affect actual Google rankings, it will nevertheless have an impact on user experience. So, this article is of great benefit.
Eugen Oprea explains issues like 'too many plugins', 'undeleted spam comments', 'undeleted post revisions', etc all contribute to a slow website.
He then explains in some detail the idea of optimising the databases, optimising images and why 'page cache' is something you need to know something about.