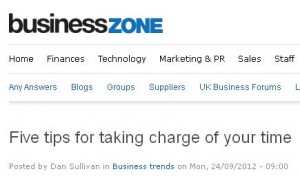 Five tips for taking charge of your time
Dan Sullivan takes us through 5 key tips to help us all manage our time better. As small business people, we can all fall prey to the problem of not finding enough time in the day to do all the tasks we need to carry out.
His suggestions are:
1. Take free days to rejuvenate yourself
2. Don't take work with you on free days
3. Make a distinction between buffer days and focus days
4. Have someone else protect your time
5. Train your clientele
A very easy read and well worthwhile taking a few minutes out to read this over a cup of tea!