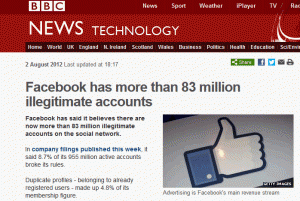 More disturbing information on the use of Facebook.
In a previous post we highlighted how almost 9% of all Facebook accounts were not real, now we have the claim that 80% of Ad clicks on Facebook were from Bots!
Firm Claims 80% Of Facebook Ad Clicks Were From Bots
This company (Limited Run) claimed in a Facebook post that up to 80% of their ad traffic was from Bots. Even the BBC has reported this story. Not good PR for Facebook at a time when its share price is under considerable pressure.