social media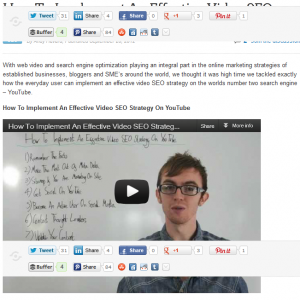 http://www.business2community.com/seo/how-to-implement-an-effective-video-seo-strategy-on-youtube-0285208
YouTube is the world's second most popular search engine. Andy Havard takes us through the basic process of using that search engine to help promote your business.
He reminds us that although YouTube is only the second most… Continue reading →
[thumb link="false"]http://www.walmart.com[/thumb]
Walmart lauched a concerted Local Facebook campaign in 2011 – a serious commitment to this channel of consumer communication. It seems not to have worked. A total of 3500 Facebook Pages were involved!!
The recent post from Facebook stated "These newly improved automated efforts will remove those Likes gained by malware, compromised accounts, deceived users, or purchased bulk Likes".
In case you are not aware, an industry has… Continue reading →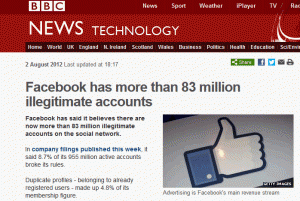 More disturbing information on the use of Facebook.
In a previous post we highlighted how almost 9% of all Facebook accounts were not real, now we have the claim that 80% of Ad clicks on Facebook were from Bots!… Continue reading →
Kelsey Jones explains that the answer to the question is undoubtedly 'yes'!
We've discussed elsewhere where too much tweeting can cause people to unfollow you. Kelsey also points out the same situation arises in Facebook if a company posts… Continue reading →
Excellent piece by Lisa Barone setting out the 20 major reasons people turn off and might stop following us on Twitter. A check-list all of us should be going through.
The results were of a simple poll… Continue reading →
This is a real dilemma for all small business owners. We read so much about how 'social media' is the great new thing but then we investigate a bit further and its easy to reach the… Continue reading →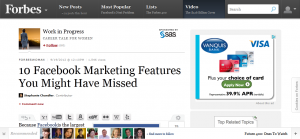 http://www.forbes.com/sites/work-in-progress/2012/09/19/10-facebook-marketing-features-you-might-have-missed/
Stephanie Chandler sets out 10 of the less known tricks you might want to employ with your Facebook account/page.
I particularly like point one – you can gain premium exposure to a post by pinning it to the top… Continue reading →